HEC Paris in Qatar, one of the world's leading providers of executive education, honored the 2022 Executive MBA (EMBA) and Specialized Master's in Strategic Business Unit Management (SBUM) graduating classes during a ceremony organized by Qatar Foundation for all the Education City partners.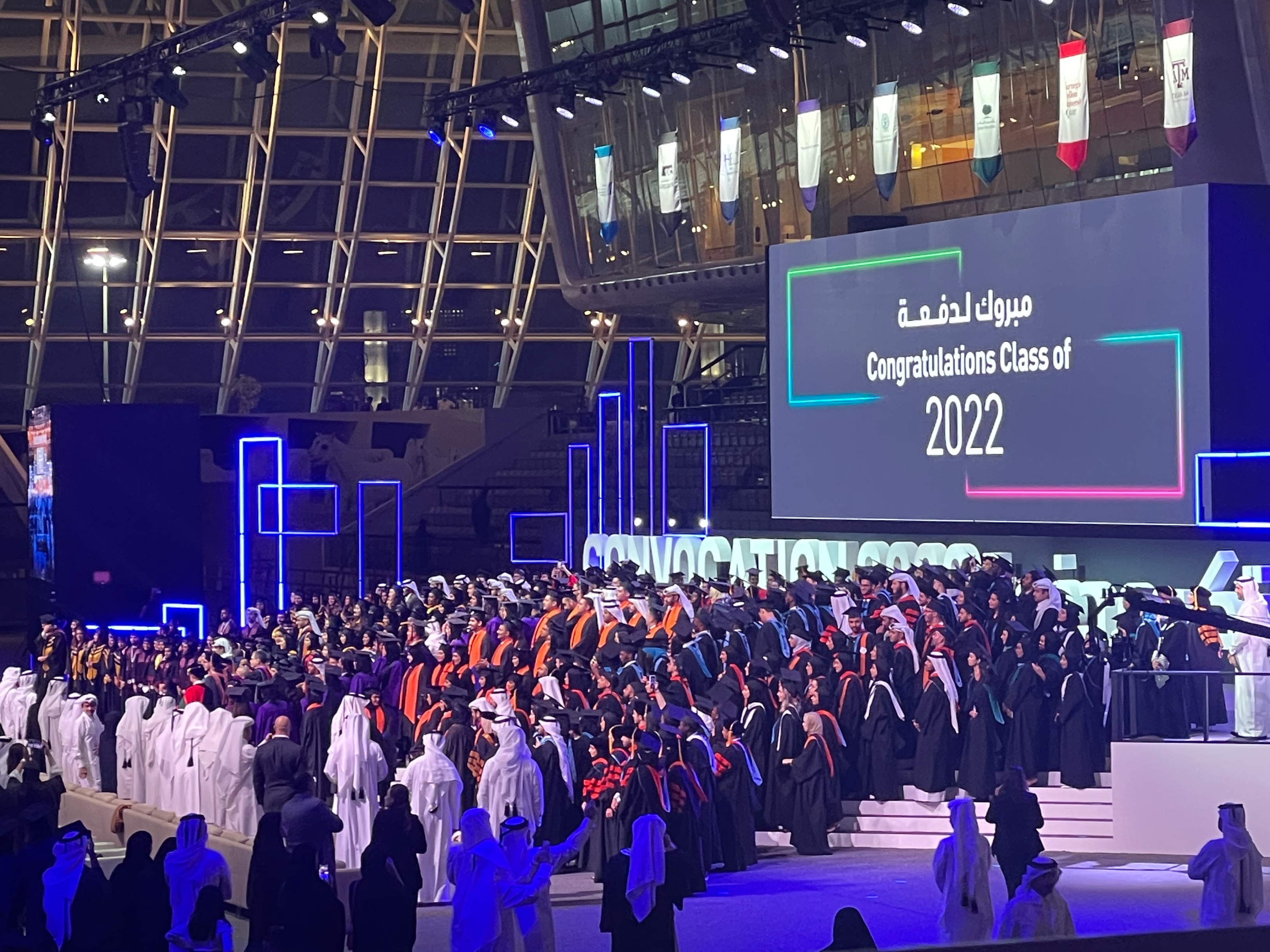 The ceremony was held at Al Shaqab Arena in Education City, where in total, 90 HEC Paris in Qatar graduates were honored – 42 graduating from the International Executive MBA (EMBA) and 48 from the Specialized Master's in Strategic Business Unit Management (SBUM). HEC Paris in Qatar graduates from class of 2021 and 2020 were also honored during the ceremony - 63 participants from EMBA program and 102 participants from the SBUM program.
Commenting on the graduation ceremony, Dr. Pablo Martin de Holan, Dean of HEC Paris in Qatar said: "On behalf of HEC Paris in Qatar, we would like to congratulate the class of 2022. Our graduates overcame challenges and accomplished a significant milestone." He added: "Learning should never stop. That is the spirit of Education City and Qatar Foundation, which have created a world-class educational ecosystem that enables HEC Paris and other distinguished partners to unleash human talent, and help people reach their true potential".
Dr. Eloïc Peyrache, Dean of HEC Paris, who was also present at the ceremony, said: "The constant increase in the number and the quality of graduates year on year is the reflection of our long-standing academic excellence, which is fast penetrating into Qatar's educational landscape. We are delighted to see another batch of business leaders enhancing their knowledge and skillsets. Their contributions to the workforce will positively impact the Qatari economy, and the world! "
The graduates also expressed their appreciation to the programs and enthusiasm for the future. 2022 SBUM alumna, Ms. Hessa Al-Thani, said: "As the class rep, I can confidently say that our experience at HEC Paris has prepared us for the next chapter. Surrounded by ambitious peers and knowledgeable professors, I am confident that the class of 2022 will succeed in all future endeavors and make a positive impact on business and society."
Ms. Noor Saleh, EMBA 2022 alumna commented: "This program has given me the opportunity to learn in a multicultural and interactive environment. It has taught me leadership skills and helped me better understand what I want to achieve in my career. I would like to thank my classmates and professors who challenged me and continued to guide me throughout the academic year."
HEC Paris has been delivering impact and excellence in Qatar for over a decade, and since joining Qatar Foundation in 2010, HEC Paris has graduated 972 participants in Qatar, of whom 428 participated in the EMBA program and 544 in the SBUM program.